Services include, but are not limited to the following:
Predictive Analysis
Comparative Analysis
Gameplan Analysis
Personnel Analysis
Data Modeling
Football Intelligence Projects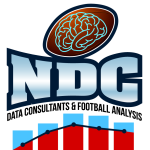 NFL Data Consultants assists organizations that are tired of losing, tired of status quo, and want to transform the sport by looking at football through an analytical lens.  Currently, NFL Data Consultants works as a third party, outside of the team facility, with the purpose to challenge the game with an analytical mindset.  The mission is to move and change the sport and to use predictive analytics, metrics, and models to determine the probability of success with personnel decisions; this allows the Owner, Team President, General Manager, Scouting Department, Head Coach, and Coaching staff to become the superstars.  Being successful in that mission will bear its own fruit.  It is not the attention and glory that is sought, but instead it is the desire to challenge status quo within the sport and to make an impact for executives that are visionaries. The analytical approach to football is here, and those that take that approach will be at the top of the food chain
The ultimate goal is to work exclusively with one organization to touch on all the facets of analysis, intelligence, and data modeling in its full scope. The analysis includes but is not limited to the following: predictive analysis, comparative analysis, gameplan analysis, data modeling, and even football intelligence projects.